Skip to menu
Skip to content
Krzysztof Krawiec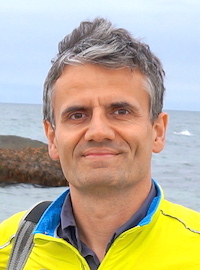 Recent news
We recently founded CAMIL, Center for Artificial Intelligence and Machine Learning
"Ain't Nobody Got Time For Coding: Structure-Aware Program Synthesis From Natural Language", by my students Jakub Bednarek, Karol Piaskowski, and me.
Our paper "Counterexample-Driven Genetic Programming: Stochastic Synthesis of Provably Correct Programs", by Iwo Błądek, Jerry Swan, John H. Drake and me has been accepted and presented at IJCAI'18
Together with Paweł Liskowski and Wojciech Jaśkowski, we designed a move predictor for the game of Othello based on a deep neural network that defeats all other 1-ply Othello players proposed to date. The paper, accepted for publication in IEEE Transactions on Games, is available here.
Our study Segmenting Retinal Blood Vessels with Deep Neural Networks is among the 20 most often downloaded papers in IEEE Transactions of Medical Imaging.
Our paper Counterexample-Driven Genetic Programming, by Iwo Błądek, Jerry Swan and me, won the Best Paper Award at the Genetic and Evolutionary Computation Conference (GECCO'17). The source code we've used to conduct the experiment is available on GitHub.
According to Springer, the were almost 3000 downloads of the chapters from my book Behavioral Program Synthesis with Genetic Programming (Springer 2016).
For the third year in a row, together with Malcolm Heywood, we'll be giving the tutorial Solving complex problems with coevolutionary algorithms at GECCO'17.
My project proposal Software framework for explanatory modeling of big data (LUCID) has been granted funding by The National Centre for Research and Development
An favorable review of my book Behavioral Program Synthesis with Genetic Programming (Springer 2016) by Atif Azad of University of Limerick, Ireland, has just appeared in Genetic Programming and Evolvable Machines
As of September 1st, I'm the Deputy Director for Science of the Institute of Computing Science
Released SwiM (Synthesis with Metaheuristics) - a Scala library for program synthesis using metaheuristics, in particular with genetic programming.
Our paper Surrogate Fitness via Factorization of Interaction Matrix, by Paweł Liskowski and me, won the Best Paper Award at the 19th European Conference on Genetic Programming (EuroGP)
The deep neural network approach we designed with my PhD student Paweł Liskowski provides best-to-date segmentation of retinal blood vessel networks in ophthalmological imaging (fundus imaging), outperforming over 70 other methods designed to date. More details in our paper Segmenting Retinal Blood Vessels with Deep Neural Networks, accepted for publication in IEEE Transactions on Medical Imaging. See this page for the online accompanying material.
My book Behavioral Program Synthesis with Genetic Programming (Springer 2016) is out!
I'm chairing the Genetic Programming Track at GECCO'16, together with Zdenek Vasicek,
My daughter Spockified me. Again :)
2015
2014
My joint paper with Una-May O'Reilly ''Behavioral Programming: A Broader and More Detailed Take on Semantic GP" won the Best Paper Award in the Genetic Programming track of the GECCO'14 conference.
From Sept'13 till Feb'14, I was a Fulbright Visiting Scholar at Computer Science and Artificial Intelligence Laboratory (CSAIL) at Massachusetts Institute of Technology (MIT), working in the ALFA group directed by Professor Una-May O'Reilly.
Together with Jerry Swan, John Clark, Chris Simons, and John Woodward, we are organizing MDP 2014, a workshop on Metaheuristic Design Patterns, collocated with GECCO, Genetic and Evolutionary Computation Conference, in Vancouver, Canada, 12-16 July 2014.
Together with Colin Johnson, Alberto Moraglio, and Michael O'Neill, we are organizing workshop on Semantic Methods in Genetic Programming at PPSN'14 conference. The workshop will be held as a full-day, four-session event on September 13, 2014, at the GR-Ljubljana Exhibition and Convention Centre
Together with Miguel Nicolau, we were co-chairing EuroGP 2014, 17th European Conference on Genetic Programming, part of Evo*, Granada, Spain, 23-25 April.
2013 and earlier
Software
I am developing a evolutionary computation library in Scala Scevo and a genetic programming (program synthesis) library in Scala Scaps
The MIT Alfa group published the new release of the FlexGP framework, which includes also the implementation of Multiple Regression Genetic Programming, a method we described in this GECCO paper.
Collaborators
Postdocs
Phd students