Public transport of Poznan includes trams and busses. They are usually green-yellow colour, but there are exceptions - for example some vehicles have advertisements on them and some old ones are red.
From the city centre to the north part of Poznan you can take the fast tram PST - it doesn't cross any intersections and it is much faster to travel by it then by car.





The public transportation in Poznan is operated by Miejskie Przedsiebiorstwo Komunikacyjne (MPK). To know more - about exact connections and prices - please visit their site.





There are a few possibilities of paying fares. In the case of busses you can choose between a time ticket and a bus-stop ticket. The price is up to the ride time or to a number of stops. It is recommended to use time tickets except during rush hours. In other case you might have to pay for being stuck in traffic jam.
In the case of trams there are time tickets only.

You can also buy tickets for 24 hours, a week and so on. There are monthly, quater of the year and year-long tickets as well. If you want, you can choose such a ticket for the whole transportation net which includes trams and busses, or for a concrete number of stops of a specyfic tram or bus line.

You can buy tickets in kiosks, some shops and MPK outlets. Generally all these places are marked by the stickers with the MPK logo, visible at the front door or shop window.






All public transportation tictets have small holograms.
Single ride tickets have to be punched immediately after entrance to the vehicle!



Bus and tram stops are mostly green shelters and are appointed by MPK logo: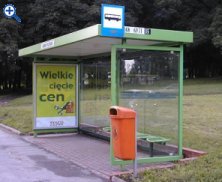 Please remember, that especially when there are fairs it can be difficult and slow to get round city centre by car - it is recommended to park your car (for example at one of MPK buffer parking lots, which are guarded, relatively cheap and situated in the vicinity of the city centre) and use public transportation. Futhermore, you have to pay for parking your car in the city centre - for more detail go to: transportation > private.

Generally public transportation in Poznan is well organized, quite fast and punctual. It is also easy to use it - you can find maps at stops and inside vehicles, names of the stops are usually read before them.